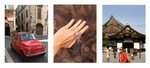 Hello again my darling friends,
This month I wanted to take you around the world with me. Well, almost. As the world is still relatively locked down,  I wanted to share with you all my favorite cities that I've been to and  to revisit all the wonderful things that different places in the world have to offer. The cities that I most adore are; London, Rome, Tokyo and Berlin.
London

London, a city I call home. I lived there for many years and it has a special place in my heart. A city full of life. Many of my greatest friendships blossomed in London and I really felt at home, the great food didn't hurt either. When living in London I had access to the most amazing food, any cuisine in its best form that you can possibly think of, definitely an aspect of city life that I miss now. Not only was I surrounded by beautiful friends and great food, but what I also find incredible about the city are the parks, and Hyde Park has my heart, which I lived close to. London has 3000 parks, making up 18% of the city, I just find that incredible. A huge city, bustling busy streets, home to millions and full of nature.
Rome
Rome is such an elegant and magical city. So rich in history and culture, a walk in any direction takes you to parts of the empire still holding on, the ruins and sites can be found all over this amazing city. Such a warm and welcoming place. Living here was a dream and if it was up to me, I would still be there now. I loved to discover its many secrets and I managed to make some great friends! Visiting the ancients sites and museums as often as I could, oh my and the sunrises and the sunsets. What a lovely and beautiful city, loved and explored by so many, a tourist destination for many hundreds, if not thousands of years.
Tokyo
Tokyo was a whole new world at the time I visited, it seemed that there were hardly any tourists, which made my experience even more amazing. Growing up in the Netherlands and living mainly in Europe, my journey to Japan was so exciting. Tokyo is a city so bright and so vivid, and the people were like no other people I had ever experienced, so unique and so polite. It is a city that is so rich in history, and traditional is fused together with the ultramodern. I was very much amazed by how food is being experienced, its delicate ways, it is totally mind blowing. Every aspect of this city and its people were feeding my curiosity even more. I always wanted to return but haven't been able yet.

Berlin
Berlin is a unique place and a city for everyone. The good thing is that it's so close when living in Europe. I will always return to Berlin, the vibes and the character is unmatched. Berlin is like a living artwork in itself, from the fabulous pink of the above ground pipes all over the city, to the various abandoned sites, it's incredible graffiti, its museums, just the different vibes of each area. It's a "colourful" city. The people you meet in Berlin are the most curious and interesting characters. It's a city where you feel everyone is comfortable being themselves and thrive of being who they really want to be.
May

Now that I have taken you along some of my favourite cities, and how much I long to return, and I'm sure that you love to visit anywhere as much as I do. It made me want to offer you, during these Covid days, a discount of 20% off on all Purely Wired jewellery until the 31st of May, so you can shine soon again!
Use the code at checkout: PURELYWIRED20
My two glamorous pieces for May are Mellow and Cauro
The two pieces I'd like to put some extra emphasis on this month are two very wearable and glamorous pieces: Mellow and Cauro. 
Cauro
Many stones are interesting to me. I found this glittering grey quartz stone on one of my many hikes in the Swiss Alps. At this moment in time, I love to work with any kind of stones, and they can be raw, polished or cut. For when I started my jewellery journey, I used to work with the best quality facetted stones, and this is the reason why I now work with very different stones, and I create more 'tongue in cheek' jewels, seen in 'Conversation Pieces" rings, with stones that speak to me.
Mallow
Elegance with an attitude. At first glance, this unique ring might appear to be quite delicate, but she has a personality that's undeniable. Each time you look at her, she shows you another side to herself: the sheer perfection of her Akoya pearl, and the mystifying character of her raw Aquamarine, aligned so perfectly in the web of dazzling yellow gold. The rawness of her beauty resides in the combination of the transparent and delicate beryl stone with the smoothness of the pearl, that go so well together in this stunning ring. "Mallow" was inspired by a conversation that I once had with a friend about pearls and some possible combinations, it made me to create this elegant beauty: a dreamlike ring that you'll cherish forever.
I can't wait for the world to open up so we can all explore and fall in love with wonderfully magical cities again. 
Xx Sheila