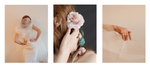 Summer is here!
Starting off this new season and that we might all come together to celebrate love, a big wedding day! 
Weddings are a moment in time we all love to keep snapshots of to look back and reflect on. From the vows, you and your partner holding hands, to your first dance, to the wedding cake, to your nieces and nephews tumbling around in the lawn, friends and family laughing and crying, your best friend drinking too much champagne, the toasts - we want to remember it all. A magical day celebrating your love for one another and sharing it with all the most special people in your life. On this day that you want to remember forever, you need to plan a beautiful, unique and mesmerizing look. 
A throwback in time 
When I got married 15 years ago, I knew exactly which look I wanted, a classic 70's vibe; white suit, 70's hair and makeup and spectacular and unusual statement jewellery. I managed a kind of suit, hair and make-up, but no matter how hard I looked in London, Amsterdam, Paris, Geneva, I could not find the style of jewellery I knew I wanted. I found all sorts of beautiful jewellery, just nothing that really stood out to me as especially unique. I didn't end up finding what I was after, so I settled with a little more traditional. This experience planted the seed in my mind that one day I needed to be the one to design and create the jewellery that I want to wear. 
A special design 
I now have a growing sisterhood of great ladies, with similar tastes, who collect my pieces and keep me busy commissioning unique pieces for them! One of my most interesting commissions was for a client in New York, the client asked me to design and create a unique wedding tiara, one that she could also incorporate into her wardrobe after her special day. I ended up creating a tiara which could also be converted into a necklace, my first foray into making such a piece. I created a spectacular suite (if I do say so myself) which consisted of a tiara that enhanced her sleeveless gown, but did not detract or clash with her engagement and wedding rings or her family heirloom diamond earrings.

But then...
She did not choose the piece! I'm still laughing when I think about this story because it really frames my kind of work and unique jewellery. They are not for the faint hearted - it is just not what I create. The design comes to life in my hands and sometimes they become elaborate. It's a big part of my creative process and I love it, just this time it didn't fit my friend. I learned to keep an even tighter communication with my commission clients and sketch a more pieces in different settings and stones for the client to choose from. From there I've had wonderful commission work where my clients really got exactly what they envisioned with my own style incorporated and not toned down. Next time I'll see where my creativity sends me. Might be just right.
Wedding ready jewels for Guests

It's not all about the bride? I would say yes and no. There are different things to consider when arriving as a guest to a wedding. You don't want to wear red, white or black - that is a given. But how elaborate could and should you be with your jewellery?

I'd say go ALL IN. The more beautiful you feel the better guest you will be.
Tripper
A sweet contrast between the rough and raw rock crystal and the beautiful, flawless and soft Akoya pearls. I knotted the pearls one after the other onto white silk, and if you look closely, you can see that I placed the pearls on the silk descending in size, the largest pearls starting at one end of the necklace. The rock crystal is a stone I found in the Swiss Alps, embraced in a silver webbing that ties the raw rock crystal to the silk 
Show your personality!

A ring for a wedding - do you choose your dress or your jewellery first? I do both.

Wishing you all a marvelous and sunny June.
Xx Sheila