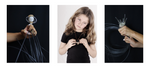 Through each of my collections, I'm able to express my unbridled mind.

At the very beginning
My first work wasn't really about adornment. I created a neckpiece with sharp edged glass, rough wood, antlers, plastic, basically anything that was washed upon shores, as a reaction to an ever increasing indifferent behaviour towards garbage and a worldwide pollution and so much more. People soon get used finding rubbish, plastic bottles, or candy wraps, anywhere, close to home, on holiday, everywhere, even high up on a mountain, in one of the purest environments that you can imagine...  sigh. 
Some time later, when I started to use copper and silver in my newer work, because I wanted to be able to wear the pure stones that I'd collected over years. Soon, they found their way as presents for friends when I was living in London, and soon their friends... My Conversation Pieces Collection was born.
Duality
Soon after, my work became -unintentionally- more glamorous, because I started to create with gold related materials and my growing collection of colourful stone rings, became more jewel like.
At the same time I kept expressing myself and wanted to keep exploring my deeper self again, my worries, and my respect for nature and in general for our planet Earth, which led to creating statement pieces, often activistic, because I have a voice, and like to use it.
Arty Scenes
Arty Scenes is the collection in which I can truly express myself. In 2018 and 2019 I was asked for a contemporary jewellery exhibition in Milan, which gave me the confidence to finally show my work to a wider audience. 
Conversation Pieces
The Conversation Pieces Collection, became my outlet in creating colourful jewels and it became another passion to make jewels that are different, especially after having worked in the jewellery industry, years ago. I like different, I naturally like more unconventional.
I developed my own techniques, which allowed me to create the styles I was after. Today, I create each jewel with a different personality, and it's gives me great pleasure to be able to cherish the beauty of a stone, and to find a unique and organically developed design for it. 
The name for this collection was chosen because of a growing list of clients who frequently told me, about the numerous times they've been stopped on the streets or at parties, as my supposedly eye-catching rings, drew attention, thus sparked a conversation. Hence, the name of the collection: Conversation Pieces.
In 2018, I got more recognition, from a concept store in Amsterdam, Xbank, and not much later I was selling my work on the New York-based platform 1stdibs. 
Purely Wired
This Collection was created out of a need for light-wear jewellery that I could take with me on my travels. 
Each jewel is shaped and created by my hands in 14 kt gold-filled or in the highest quality silver wire. I want these jewels to be easy, quirky and unique. 
Shoot with Giuseppe Bini (Milan, 2018)