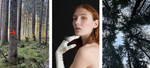 Dear friends,
As I sit down to write this amid November, surrounded by the beautiful Autumn colours, it's hard to ignore the turmoil and challenges that the world continues to face. The stories in the news fill our hearts with anxiety and sorrow. I wonder why humanity still grapples with conflicts and why we seem to struggle to learn from the lessons of our past. The complexities of human nature and the twists and turns of history intrigue me, and in times like these, they occupy my thoughts more than ever.
Contemplations like these have inspired me to want to create pieces for my Arty Scenes collection in which I express myself on a different level, as this is where I explore human behaviour in various ways, next to focus on subjects that are dear to my heart, like the beauty of our planet. Only, in recent months, I've felt a creative block, even though my mind is overflowing with ideas. The life of an artist can be complicated, to say the least. If you haven't had a chance to explore this collection yet, I invite you to visit my website and explore my Arty Scenes Collection and hopefully, I'll be able to share new work with you soon. 
On the flip side, my Conversation Pieces collection comes with interesting and/or colourful stones, and it keeps evolving effortlessly, driven by the enduring allure of  stones that naturally speak to me. What I mean, is that I'm attracted by beauty, colours, or shapes, as the finest gems are equally attractive to me as does a pebble, found somewhere. Stones are gripping me, and so is the act of creation, which I often envision on the spot, although its outcome can be totally different.
To maintain a positive mindset in these challenging times, I've taken to immersing myself in the beauty of nature. Watching autumn in full bloom from my window is a visual feast for the senses. The vibrant colours of the changing leaves, from green to red, brown to yellow, create a breathtaking landscape. Colours are a tremendous source of inspiration and never fail to lift my spirits. Our planet's four seasons offer a continual reminder of the beauty and wonder that surrounds us. 
Winter presents us with graceful silhouettes of trees against an icy blue sky or blanketed in pristine white snow. Spring ushers in the rebirth of fresh green leaves, symbolising new life and hope. In summer, trees burst forth in lush greenery, providing respite from the heat. And as autumn returns, the loss of green reveals a tapestry of fiery colours, reminding us of the cyclical nature of life. These transitions serve as a profound reminder that we should strive to do what we love as often as possible.
At home, I recently stumbled upon a box filled with handwritten cards and cherished memories. These relics harken back to a time when we relied on fixed telephone lines and committed phone numbers to memory. I used to send annual Christmas cards for many years, which is a wonderful way to appreciate our friendships and nurture special connections. In today's digital age, we have immediate connectivity at our fingertips, yet we often forget the simple joy of receiving a handwritten card.
And just a few weeks ago, on my September birthday, I received a handful of cards that warmed my heart. The effort and thought that went into each card were immeasurable. It's a reminder that some traditions should never fade away. Sending and receiving a card is a gesture that feels just right. While many birthday wishes now come via phone calls, messages, and emails, there's something truly special about holding a physical card in your hands.
In my daily life as a jewellery maker, I pour my heart and soul into creating pieces that come to life through my hands and imagination. This process is a stark contrast to the digital realm, offering a sense of fulfilment that is uniquely tangible.
Speaking of new creations, today, I show you new rings, and soon I will introduce you again to new necklaces and pendants.
I have now added these new rings to my collection, check them out:
I hope these additions to my collection resonate with you as much as they do with me. Stay positive, cherish the beauty that surrounds us, and keep nurturing those cherished connections in your life.
With gratitude and optimism,
Sheila xx