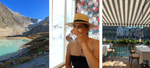 Hello, dear friends! It feels like ages since I last poured my thoughts onto these digital pages, and I'm thrilled to be back. Autumn is very much felt here in the Alps and with lots of sunshine. Last weekend, the cows descended from their Alpine meadows, all dressed up with flowers and bells, to attend their walk across the Autumn market, which draws in many people. This is a long-standing tradition before they head over to their stables. With October arriving, and just before we can fully embrace the cosiness of the cold periods, I love to reflect a little on my vibrant summer days and unveil some exciting new and edgier creations.
Summer, felt like a warm embrace with boundless and positive energy! I created shoots with friends in the village, and some are shared with you on my social media and in the blog. Furthermore we loved our delightful little adventures, exploring Switzerland. When you love nature and history, there is always something to research or explore. We explored the French part of Switzerland extensively, after having had a holiday house in that region for many years and now there is more time to explore the Germanic part. Near our house is the fairy-tale city of Lucerne, which comes with medieval towers, and only an hour away we have the charming city of Bern, filled with patios and cobbled streets. Basel is the border-kissed city, which as Zurich, come with a kaleidoscope of museums, satisfying my soul. The good thing is that Germany and Italy are nearby too. 
You already know that Art has always played a profound role in my life, and I make it a point to stay connected, wherever I am. From my Art History days, I have explored museums to extend my knowledge of historical art, and I try to keep up with contemporary art. My architectural studies come in handy, when I walk around the many medieval towns. I love to find the beauty in every country that I explore.
I lived and studied in Amsterdam and it will always hold a special place in my heart, and this summer, we visited it twice. The first trip, spanning two weeks, was filled with joyous reunions with friends and family, creating more jewellery shoots, and we also experienced some unexpected gatherings.. by losing a friend and a family member.
The picturesque canals made us embark on a boat ride to celebrate a Birthday. Laughter and sadness came together. On our second trip, we took George our cat back again, as we hadn't found a pet sitter yet, and that was such an adventure in itself! I loved meeting up with clients and attending a party of good friends, where fireworks illuminated the night sky as we danced the night away. Ah, dancing – it's one of my greatest joys. They say Libras are born to revel in parties, and I wholeheartedly embrace that trait.
Once back in the Alps, then came my birthday. There was a beautiful dinner, which was obviously followed by some dancing.
It was a nice discovery to see my work gracing the pages of the Elle magazine, (click on the photo above) and.. next to this, the head editor herself loved one of my malachite stone rings so much that she bought my green stone jewel, and even more to my astonishment, she wore it proudly on the red carpet at the Venice Cinema Biennale. My heart swelled with pride.
September held yet another delightful surprise as my work was also selected for VO+, a prestigious jewellery magazine and their 40th-anniversary book. This book explores the history of jewellery from the 80s until today, marking some significant eras in the world of adornments.
This summer was a productive one for my art too. Driving the many mountain passes, and exploring cities, I was obviously taking it slower concerning my other jobs, hence there was no blog because I just wanted to create jewels. 
The positive energy, I got this summer, translated into glamorous golden jewels with some being edgier than others, but that's me! I wanted to incorporate more black silver alongside 14 kt yellow and rose gold-filled materials, as I love its intriguing vibe. 
Seasons may come and go, but they've never been the primary muse or inspiration for my jewellery creations. Style is an intensely personal expression, and I have simply been pushing the boundaries of my own creative boundaries, next to working on some other projects which I can't reveal just yet.
So, here we are, in Autumn, presenting ten new rings, each with its own unique story to tell. As I continue to evolve and refine my work, I'm happy to share more with you, to hopefully inspire your style too.
Thank you for being a part of my journey.
With warmest wishes,
Sheila xx
-Thaleia, inspired by a summers breeze, and made to be worn the whole year..
-Violette, a raw green tourmaline and purple amethyst beauty
-Eirene, natural black onyx combined with four sweet small pearls
-Phoebe, a pure force set with a wonderful Herkimer diamond
-Amparo, a clear rock crystal in an exciting triangular shape
-Euphemia, two baroque pearls, sitting into a strong and unique structure
-Eunice, is feisty and stylish, and comes with a large faceted smoke quartz
-Marnie, a large black stone and tricolour elegant and edgy beauty
-Augustine, a radiant yellow natural amber, a force to look at
-Clemene, geometrical shaped malachite, as never seen before