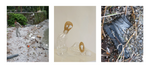 Hello there!
I hope you are well. I want to invite you to come along and celebrate Earth Day with me this year. I'm sure it's no secret that I am very passionate about caring for our earth and ensuring I do my very best to be sustainable, but also inspiring others to do so themselves. This Earth Day April 22nd 2021 the theme is 'Restore Our Earth', a  focus on reducing our footprint and preventing oncoming disasters of climate change and environmental destruction. 
History about Earth Day
The first Earth Day took place 51 years ago on April 22nd in 1970. The beginning of this annual event was born out of a tragic event, the 1969 Santa Barbara Oil Spill. On the 28th of January in 1969, over 3 million gallons of oil were spilled into the Santa Barbara Channel, in Southern California. The oil spill killed thousands of seabirds, dolphins, seals and countless other marine animals. A month after the Oil Spill disaster, a US Senator proposed holding a national environmental day on April 22 1970. The first Earth Day consisted of 20 million Americans taking part in peaceful demonstrations requesting environmental reform in America. Fast forward half a century and today "Earth Day is widely recognized as the largest secular observance in the world. Yay!

My love for nature
It continues to grow everyday, which is especially evident in my creative space, through the use of natural, and often raw, stones. When I started making jewels, I didn't always pay attention to each stone that I found, most did happen to be natural stones from the countries that I visited and bought right on the spot, but when I was at home in London, I would go to special bead companies and buy bead necklaces. I would use these beads to create more elegant pieces, only to realise later that many of the stones were dyed. Once you buy a beautiful coloured bead, although they aren't naturally so vibrant and colourful, it's sometimes hard not to use them and incorporate them into your creations. I still use some of these stones, as I already own them, but now I'm aware, I'm sure I am never going back down that route again. Natural or nature is a key part of my art to me. 
Inspired by Nature
Through my art you can see that I am inspired by nature, as in motives, structures, reliefs. When you walk in a forest in Autumn and you find a leaf that shows its amazing structure, it's skeleton after most of the organic material has decomposed, or when spiders creates their webs, the shape of the branches of a tree, moss and its tactility, anything could be an inspiration to me. This is often my inspiration for my Arty Scenes collection whereas for Conversation Pieces, it's more the natural beauty of the stone itself and the way I set that stone, to have them become a symbiosis. 
Raquel is one of my remade rings. She used to be a big rock crystal ring with a lot of attitude but in my mind I saw the setting with a less expressive tone. Then Raquel was born with the same setting, new stone and a new life.
Arty Scenes inspired by Nature
Arty Scenes is my collection that most represents and reflects my love of nature and appreciation of the world but also issues I am passionate about such as animal abuse, social issues, environmental issues and the current state of our earth.
Endangered is a ring that really represents an environmental issue that I'm so passionate about. Endangered represents the Rafflesia flower, a flower which is found in the rain forests of Southeast Asia and has been declared one of the most endangered plants in the world. Due to logging in tropical rain forests the vine that the Rafflesia plant lives off is disappearing, and with it the extraordinary Rafflesia.
Stronger Together
Earth Day is so special to me, it's such a great day to learn and do better together. It's an incredible movement that really conveys to us how many resources we actually have access to as humans and how possible it is to solve the many issues that exist worldwide, starting with spreading awareness and educating each other. So, change is possible, we only have to move the people around us, and it starts with little movements, even thought movements and spreading ideas in a smaller circle can have a huge effect.

I wanted to include a quote, short and sweet, maybe a little bittersweet, because although Earth Day is a positive movement, it really shines a light on how extensive the damage currently is.
"There is an emergency, but I also see hope. 
I see a history of advances that show what can be done – from rescuing the ozone layer to reducing extinction rates to expanding protected areas. 
Many cities are becoming greener.
The circular economy is reducing waste.
Environmental laws have growing reach." New York on 2 December by UN Secretary-General António Guterres.
Earth Day x Sheila Westera 20% of the revenue will go to WWF between 22nd and 25th of April.
Happy Earth Day :) 
 Xx Sheila