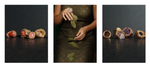 A new season
Summer has already come and gone, September has arrived and with it comes the beautiful change of season, the summer days fading out and bringing us those gloriously crisp autumn days that I so love! 
The beautiful transition from summer to autumn 
The stunning array of colours that autumn so wonderfully provides us with is what I'm most looking forward to. I adore the colours in nature all year round, but there is something so special about the contrast of the stunning blue skies with the changing colours of the leaves. From the lively green of the trees yet to start their transition, to the beautiful yellows, oranges, reds and browns of the leaves shifting through the different phases of their journey of decomposition. 
Time to step into something new 
The changing weather means reorganising our wardrobes, slowly bringing out the warmer clothes and putting away those lovely lighter layers for next year. I thought I'd take you on a colourful journey of styling choices. Personally, I don't have any strict rules when it comes to choosing the colour scheme of my outfits, I'm convinced that most colours go well together, quite possibly that just comes with my artistic view but also when I reflect on the colours in nature, there aren't any colours that don't match. Each person's idea of what colours are stylish and suitable to pair is a matter of personal taste, skin tone and the colour of one's hair and eyes. Society and trends also play a big role in what is deemed stylish to wear with what and how to wear colours together.
Although I'm comfortable playing with more interesting colour combinations, I thought it would be nice to bring you some guidance with the colour wheel. The colour wheel was invented by Isaac Newton, a colour circle which conveyed the relation between the different spectral hues. The colour wheel gives us these three different colour groups; primary colours (red, yellow and blue), secondary colours (a combination of primary colours) and tertiary colours (a combination of primary and secondary colours).
Let's start with the basics, styling neutrals. Neutrals are the hues that struggle to be defined as colours, the greys, whites, blacks and cream colours. Neutrals may be the easiest palette to style but that doesn't mean that the outfit can't be a statement, stick to one warmer or cooler tone and keep the other pieces neutral and you have yourself a beautiful soft ensemble. Now sticking to similar shades, analogous colours are three colours next to each other on the colour wheel, for example blue, blue-violet and violet, so a primary colour, a secondary or tertiary colour and a third colour, often a combination of the first two colours chosen. Maybe some gorgeous orange pants paired with a pink blouse tied together with a pink-orange belt. 
To spice things up why don't we add complementary colours to the mix, the bold pairing of colours that sit opposite of each other on the colour wheel. A yellow dress with a lilac heel, or a pair of blue pants matched with an orange blazer, there's something so exciting about complementary colours, it just pulls you in and grabs your attention! Last but not least, let's try sticking to one colour - how to style your dream monochromatic look. It's such a visually pleasing fashion choice, there's nothing like a monochromatic outfit that has been pieced together perfectly. It's important to choose your primary colour and stick to the same shade warmth or coolness. If you've chosen a warm red, make sure all the pieces you incorporate into the look also have warm undertones. 
Rings that I think are the perfect addition to a stylish outfit 
Mannou and Hildegard are two rings of mine that really capture my love for all colours and how I create my own rules when it comes to colour combinations. I am forever inspired by the colours that I experience within nature, there are no boundaries set in place for colour palettes within the natural world and I love that I can represent that concept within my art.
Mannou, a gorgeous ring made up of three different coloured stones, from the lovely green of the onyx to the deep red of the faceted burgundy mookaite matched with the golden grey labradorite, all enveloped within a rose gold setting. A gorgeous statement piece that will elevate your style. 
Hildegard, a wonderfully unique cocktail ring, a different stone catches your attention from every angle, a ring full of hidden gems. A faceted purple amethyst is set at the base of the piece and surrounding the crystal from all angles are the faceted lemon quartz and the beautiful cabochon korund. The gorgeous array of stones are set in a two tone wired web, a beautiful contrast between the blackened silver and the yellow gold make for an incredibly unique and special cocktail ring. 
Xx Sheila