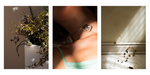 Hi my darling friends! I hope you are all well and are adjusting to the change of season and enjoying the cozy times. Autumn is definitely here in full force, the days are crisp, the wind has arrived and the leaves have begun to flutter and twirl through the air before falling to decorate the earth beneath our feet.  
Sharing the spotlight
In my recent blogs I have been shining a light mostly on my rings. Well I think it is time for my love of necklaces to join in on the spotlight fun again. These days I do tend to mostly create rings, which is why you hear me talking about them so much but my love for creating really began with necklaces.  
The Journey 
In the very beginning, my art was a place for me and my social criticisms. It slowly evolved into me creating mainly necklaces from items that I found all over the place, mostly stones or bits and pieces of nature that I found on walks. I have always adored stones and I had collected stones for many years prior to creating, but when I started working with stones, it was like I had unlocked a whole new world of creativity and imagination for my art. My jewellery became wearable and I started to make some pieces for friends and family, and slowly, oh so very slowly, that paved the path to becoming the small business that Sheila Westera London is now. 
My love of stones
I can't remember a time when I wasn't mesmerized by stones. It's not just a love, it is a deep fascination. I love the story that every stone has, individually, I find it incredible that each raw stone has a different tale of how it came to be on my coffee table and that each type of stone has a different place of origin and history. Isn't it just so special to think of the rich history a stone holds within its existence.
Throughout my collections you will see all kinds of stones; polished, raw, vintage, cut, from small and soft stones to large raw chunks, expensive and inexpensive. To give value to what many deem invaluable is wonderful, such as giving a commonly found stone center stage in a Conversations Pieces cocktail ring or necklace.  Something that I deeply value within my work with all kinds of stones is recycling and up-cycling. I love giving life to a used or unwanted item, giving the final piece such a unique character or in some of my Arty Scenes works, helping to emphasize the message I am enveloping within the piece. 
My necklaces 
I have been wanting to create more necklaces and pendants for a long time and this summer I finally made time for it. Over the past few months I have been busy creating lots of new necklaces and pendants for my collections and I can't believe the time is here to share some of my newest creations with you! 
Doris, a stunning choker from my Conversation Pieces collection. The incredible green from the stone matched with the complex yellow golden setting contrasted with the simple yet wonderful wires that make up the choker. The beautiful raw malachite at the centre of this piece, enveloped within the golden web makes for an absolutely stunning statement piece. 
Tallula, a statement piece that will capture your attention from across the room. Forever gorgeous lapis lazuli becomes the stage for the beautiful raw copper set in rose gold, a stunning pairing of colors and textures. 
Xx
Sheila Westera