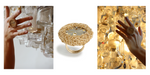 Happy November!
It's about time we talk about something new, luckily I have a bunch of new somethings to talk about. I have a brand new collection coming out, It's About Time. This new collection is such a special marriage between my love of jewels, watches, up-cycling and giving an already special item an even more unique tale to tell. 
Only time and patience can teach me who I am
As some of you may know, I worked in the jewellery field for many years and during this time I also had a lot to do with watches, which I absolutely adored. I have always been intrigued by the internal workings of a watch and by visiting the 'in house watchmakers' as often as possible, visiting watch factories in Switzerland and going to professional watch and jewellery fairs, as well as reading and researching as much as I could, my knowledge base grew. I also loved the insight that visiting auctions in Switzerland, Holland and England gave me. Through my learnings I rediscovered my love of understanding how the world ticks, from knowing how a watch works to seeing a structure or a building and seeing the incredible thought and work that went into creating it. 
Escaping the shiny world of diamonds 
My relationship with the shiny and sparkly stones is forever changing. I love them but at the same time they bore me and I'm exhausted by the fever around them, especially in those years that I worked in the fine jewellery industry and after working in one of the best diamond companies in Amsterdam for many years, I needed some time and space away from the world of shiny things. Which is why years later when I began my journey of creating jewellery I incorporated mostly raw and semi precious stones in my earliest works. 
Out with the new and in with the old 
Years later after finding a rare collection of vintage dials, I created my first collection which highlighted the art of reusing materials and sustainability, which resulted in a small exhibition in Holland. While I was sorting through my workshop clutter this spring, spring cleaning of course, I stumbled upon the collection again, which planted a seed of inspiration which led us to where we are today! A collection of beautiful new rings where instead of the usual beautiful stone as the centrepiece, this time a dial steals the show. Most dials in this new series are vintage ones from the Swiss watchmaker company named Rado, a dial or two may be slightly damaged, but they are unique and rare, stemming from the 70s. The magic of reusing materials is accepting the imperfections, which in turn elevates their uniqueness and the incredible character of the final piece.  
 Xx
Sheila Westera