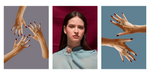 And so are my latest creations and a brand new design! This month is a busy one, I'm still on my creative roll and absolutely loving it! Light, colourful, bold, and simply marvellous, my new series named 'Marvellous' is out now. It doesn't stop there though, I also have three brand new necklaces, Hermione, Clementine and Helia. All five of my brand new pieces are a part of my Conversation Pieces collection. 
Marvellous 
A series where I wanted each ring to be lighter in weight but at the same time encompass that boldness that is so special to me within my creations, even if the stone is smaller and holds a smaller physical presence. 
A ring with all blue stones, it all started with a sweet flat drop shaped lapis lazuli, then came the beautiful faceted drop shaped chalcedony and finally a lovely polished blue kyanite. These three beauties are sitting in a triangle within the stunning golden webbed setting. The gorgeous pairing of blues and the intricate yellow golden setting give Licinia that boldness that I'm all about. 
The ring where the inspiration for this series all started. I have so many small stones laying around in my work studio, stones I have collected over many years, and so this ring came about with a collection of small stones. Three of the six stones are cut; the amethyst, smoke quartz and the citrine and the other three; the pink and green tourmaline and the aquamarine, are raw. Epiphania, a piece made up of six sweet gemstones which make a circle within their beautiful golden setting, a unique ring made for any occasion! 
The newest necklaces to join my Conversation Pieces collection 
Is set with a special raw colourful stone. As you all know, I adore stones and I have a special love for raw stones so I just had to set this wonderful treasure into one of my Fascination necklaces - a series where the pieces are almost always set with raw stones or a pearl. This natural stone comes in really beautiful soft pinks and light yellows, they are semi transparent and opaque, and the stone I used in Helia comes frm Poona, India. The stones can be found all over, and even in more reddish colours. Crystals and minerals are some of my keen interests. I started learning about them when I was young and have never grown tired of learning about them. The gorgeous raw stone set in the yellow golden Fascination embrace, the beautiful softness in colour matched with textures make Helia a unique and stunning necklace. 
A necklace that stands on her own. I created her to become a brooch, with white corals sticking out wildly but found that these small coral branches were actually relatively delicate and I needed to protect them within this design. I ended up making her a grand necklace that can become a brooch - if that's what you want. The centre of this piece, a stunning pearl, was a special find that I came across when I visited an art exhibition at the Kunst Museum in Lucerne Switzerland. A female artist had an installation about the pearl industry and some of her pearls were on display in the shop and I managed to get my hands on a few from this special exhibit. The pearl industry is something special, when I started working in the jewellery industry, they were either saltwater or sweet water sourced and cultivated. To find a natural pearl, bred by an oyster or a mussel, has become a difficult task within the past half decade. Many lives were lost in the dives for pearls which is why the company Mikimoto in Japan started to cultivate pearls, making an industry out of it. The cultivation of pearls has been heavily debated but it became acceptable and it is the reason why we all can have access to pearls today, it is no longer only for the rich and royal. I truly love the outcome of necklace 'Hermione' with one pearl in its centre and the wild white corals surrounding it. 
A necklace made of a pearl and an amethyst. The raw and light amethyst is polished on the sides and shaped into a lovely tonneau form, keeping the top raw, and it sits in the centre of this gorgeous yellow golden setting. A glorious grey sweet water pearl sits on the outer layer of the intricate web, a beautiful harmony of colours; the light shimmer from the amethyst, the glamour of the yellow gold that connects the amethyst to the lovely softness of the pearl.
Xx 
Sheila