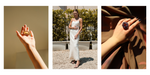 I've mentioned dress codes before, how to dress it up or create an edgier vibe for your everyday look but these are just tips and ways I like to add a bit of glamour and fun to my style. There is no real code or no go's, so long as you're happy and wearing what you love, feeling your absolute best, then that is the ultimate goal! I do encourage getting out of your comfort zone just a little bit every now and then though, making that more risky decision to wear something totally unique and fabulous ;)
A smart casual look in the evening
Let's keep the jewellery special and sweet but not too large, we want to stand out in the crowd but don't want to go overboard with the glam. It's all about nudging your authentic style a little to the dressier side but simultaneously keeping it cool and casual. Any of my softer and sweeter pieces from my Conversation Pieces collection would be a perfect fit for a smart casual evening. Something like the stunning ring Odile - or you could even go for a pair of earrings from the 'Purely Wired' collection, easy on the eye and totally unique, Zija or Chaachaa would work great! 
Let's get ready for a cocktail party
Are we starting in the late afternoon or evening? I mean, there's the obvious (and fabulous) option, a classic cocktail dress, but be sure to choose style of dress according to occasion and the venue and of course keep it aligned with your vibe. I would dress up with an eye-catching ring, because when holding your drinks, it's the most perfect conversation piece. I feel as though almost all of my Conversation Pieces rings would easily be able to steal the show and start that conversation. Ring Beatrix, classy with a beautiful sparkle or Genevieve, a ring that embodies elegance and glamour, would be the most wonderful pieces to dress up your evening cocktail look.
Now for day time drinks, I would choose something from the Dreamer series, or any ring from the pure conversation pieces, like Barbara, more minimal but such a stunning and special piece or ring Fleur, a flower inspired piece, sure to brighten up any choice style for a daytime cocktail event with her lovely amethyst embrace and beautiful carnelian centre.
Dinner Party
This all depends on a dress code and if there is no dress code, it's a matter of how outgoing you want to be. Concerning your outfit, the general rule is that you've made an effort, it should be anything other than your daily clothes, with this you are showing respect to your host. When you attend a very special and glamorous occasion, you can really go all in! Just remember to stay stylish, maybe add a ring like Lulu to complete your amazing look. 
Black Tie
There's really not much to say. We all know it means formal evening wear, anything pearl is the way to go! Just keep it fun and unique, something like Masumi. If pearls aren't for you, then why not edge it up with Carlotta, a one-of-a-kind ring that ties together the beautiful gold from the setting though to the stunning orange of the amber and the gorgeous amethyst centrepiece. 
Opera or Theatre: Never arrive late!
Today we tend to dress up less than before so when I get the chance to really go out, you bet I'm going to make a statement! I try to make it really special, choosing that stylish piece and glamming it up with one piece of jewellery only, a big standout piece that really shines bright.  "Antoinette", "Igone" or "ShowTime" will bring that extra drama to your night. 
I have a little scavenger hunt for you all: There are seven new pieces within my what to wear to what event guide, hover of the item name to find out which pieces are the newest additions to my collection! 
Xx Sheila