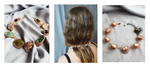 Sorry I'm a Lady
Recently my necklace that I made in 2018 "Sorry I'm a Lady" found a new home in New York, America. As a matter a fact I was surprised and thought this elaborate statement piece of a necklace would be a shelf warmer for a while more. I'm overjoyed that is not the case!
When making a statement piece such as this one, you never really know if it will lead a life of it's own or stay with me for the occasional outings. The fact that she is now roaming the streets of New York gives me so much joy. I want my jewelry to have their own life and bring power, encouragement and sparkle to the ones who wear it, otherwise what is the point? I can't just make jewelry for the shelves can I? ;)
The ripple effect
I quickly realized, just when organizing the shipping of Sorry I'm a Lady to America, that I didn't have more of her kind - the huge, bold and sparkling. So I really felt inspired to create more of the same style, for the ones who dare to shine a light on themselves and on their life. This is how my new necklaces came to life in my hands.
Necklaces have been made for millennia in all forms and shapes, created by different cultures, and it seems that our contemporaries, are defining originality. A luxurious, edgy, fun and charming jewel, alluring you to embrace this unique beauty all the time. These playful jewels are now apart of my Conversation Pieces collection and some of the stones have been set with my invented possessions technique.
'Rockin it'... and she does! When you are into stones like me, you really want them to be close to you. I thought when you wear a ring with an interesting raw stone on your finger, which is quite the statement, it will be equally interesting to be wearing them in a necklace! These hand selected raw beauties are set into my own invented technique. 'Possessions' is one of the many unique techniques that are my only, and are featured in Rockin It. The intricate wire work makes sure that every stone is being held safely, while following the natural curves, which makes for an unusual and important flow, style wise, in my opinion.
Mys style is my own, and I never intend to copy anyone.. not even my own jewels. Only sometimes, I re-create one of my own ideas; a more flexible stone necklace. "The lady is a Vamp", was inspired by 'Sorry, I'm a Lady' necklace as, after selling this jewel, there was a sudden void, which made me think that more women are searching for that kind of unique stone necklace: wearable, timeless, elegant and unique. And this new necklace had to have the word Lady in it. A selection of interesting stone shapes and colours are combined in this one-of-a-kind treasure trove necklace, which is elegantly bold, and slightly wild and beaming with colour. The colour scheme is a happy selection of transparent crystals, pearls, a green heart, a speckled fish, a radiant star, a classic amphorae, next to some a-symmetrical shapes to add some extra coolness. She is slightly heavier than most of her necklaces, because it is simply made up of stones. What really counts is that she is wearable and she is an amazing piece to wear, and in general jewellery need to be worn for the occasion anyway. Wear her with an evening or any stylish dress, or pair her with jeans, because she is beautifully versatile. 

'Cressida'...  what is magic? Maybe Cressida comes close to it.. magic not as in colorful, but as in dreamlike and edgy, in an unique and cool necklace, made in rose gold and blackened silver and she is a pearl necklace like you have never seen before! I love the pearl effect, due to its special shine and pearl luster, which is unrivaled.
This double baroque pearl necklace, comes with seven round planet like shapes made in rose gold, each set with a different shape of baroque pearl, and where one round shape is created in blackened silver, set with a shimmery raw pyrite. This necklace is part of my 'Fascination' series, for the Conversation Pieces Collection, featuring only one-of-a-kind jewels. You can feel that similar theme, based on the fact that I have been fascinated by the Universe ever since I was a child. I also love wearing short choker like necklaces because they have a certain coolness about them, which I find intriguing. The rose gold and the black here I find perfect together. 
Hope you enjoy them as much as I enjoyed making them.
xx
Sheila