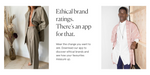 This month we are all about incredible statement pieces and suiting up with the latest runway trends, but let's make it sustainable. Statement and sustainability are always at the forefront of what we are about but why not take another deep dive into it and about runway trends? I'm always ready to witness great art, but this year the trends even suit my personal taste and vibe! 
An app that makes it so easy to do better. Good on you has put in the work to provide us with the best fashion, made ethically and sustainably, all wrapped into an easily accessible app. Tackling the research to make sure that they highlight the best of the best so that we can all work to better our impact on the world. The company also contributes to UN's Sustainable Goal 12: Ensure sustainable consumption and production patterns. Good on you also states that they are influenced by these UN goals:
Goal 5: Achieve gender equality and empower all women and girls
Goal 13: Take urgent action to combat climate change and its impacts
Goal 14: Conserve and sustainably use the oceans, seas and marine resources
Goal 15: Sustainably manage forests, combat desertification, halt and reverse land degradation, halt biodiversity loss
I am so impressed by this incredible company, so invested in making a change for the better and making it so uncomplicated for the consumer. 
A company that has made it their mission to "search the world for old gems and prolong their life cycle, through cleaning, repairing and reimagining them." - Havre Studio. Set on solving what seems to be a never ending problem of mass consumerism, Havre Studio is all about quality, sustainability, uniqueness and ethical production. From the sourcing to the reworking done on each garment, Havre Studio makes sure that the workers have set their own pay and work hours. A company that recycles and repurposes, giving a new life to preloved pieces and safe and fair working conditions for every worker involved in the entire process, start to finish. This company has nailed the latest fashion trend - the suit. They have the most stunning upcycled vintage suits. From classic suits, suits with shorts, gorgeously oversized suits, to skirts and beautiful vintage blazers. Depending on where you style takes you, these pieces could become part of your essential basics, lasting forever and bringing a quality to your everyday wear that you won't find through fast fashion. Or, if you're not a big suit or blazer wearer, become one of your statement pieces, a perfectly tailored suit that makes your outfit standout.  
An extraordinary brand based in Africa, currently operating in Accra, Ghana, which was co-founded by Rosario Dawson and Abrima Erwiah. Studio One Eighty Nine works with communities that specialize in various traditional craftsmanship techniques. Made in Africa and producing African and African inspired pieces, highlighting empowerment, creating jobs and supporting education and skills training. The brand has a "focus on working with sustainable natural fibers such as organic cotton that is grown in Burkina Faso and is GOTS certified and government certified. We use cotton that is grown in Ghana, dried grass from Ghana and silk from Italy and the USA. We use recycled fabrics such as recycled cotton and recycled glass. We use fabrics made out of new tech such as pineapple pinatex leather made out of pineapple fibers, and tencel fabric made out of wood." - Studio One Eighty Nine. 
Sheila Westera's edition of sustainable statements 
Bedazzled Chokers
Motley is the definition of a statement piece, bringing wow to a new level. An extraordinary necklace set with only raw stones, giving this piece such a unique and natural energy. A yellow golden wire is where it begins, the wire connects the five various stones and settings. The stones; a
raw light coloured Amethyst, raw purple amethyst, raw Rhodochrosite and raw Tangerine quartz -
each have a different setting from yellow gold and rose gold to blackened silver. 
Fewer Words is a gloriously golden one-of-a-kind piece from my Arty Scenes collection. A stunning teardrop shaped pink agate sits within an incredible woven golden structure. Fewer Words is such a bold and edgy piece but with a softness from the rounded shapes and the beautiful colour of the pink stone, making her the perfect statement piece. 
Necklace 
Tempest - stunning, bold and edgy, all wrapped into one.  A delicate web of blackened silver envelopes a stunning raw rock crystal which I found in the Swiss Alps. The blackened silver setting sits next to a yellow golden web which holds two beautiful pearls and hypersthene stone. The contrast of the lovely raw rock crystal in the blackened silver matched with the pairing of yellow gold, the white of the pearls and the black of the hypersthene make for a magnificent one-of-a-kind necklace. 
Au Naturale
Talulla a necklace that has it all! From the gorgeous beads to the centre piece, the contrast in textures to the beautiful combination of the blues and rose gold. The lovely lapis lazuli beads run from the clasp of the necklace and meet with the glamorous copper, which sits within a rose gold web, just off centre. A unique piece, stylish and timeless, dress it up or make it casual - either way, she will make a statement. 
Xx Sheila