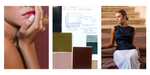 I'm happy to have linked up with a new shop in London. I went to London at the end of April to meet up with Valery Demure in her shop in Marylebone. Objet d'Emotion is based in Blandford street, it started with a pop-up store, initiated by Valery Demure, who's been a jewellery expert for years. She has asked me to participate in some of her projects, one is 'Touch me', which is happening as we speak. Clients or guests are asked to touch objects and describe what they feel, blindfolded. Her shop is about objects that she loves, hence the name of the shop, you will find interesting vintage jewels and jewels that she loves or finds interesting, next to a few design products, purses. Demure initially heard about my work from jewellery journalist Kyle Roderick. Roderick wrote the amazing blog for Forbes Magazine in autumn last year which was an absolute honour. Roderick is all about sustainability within the jewellery industry and recently wrote a book about it, Bejeweled: The World of Ethical Jewelry. She discovered my work through instagram and contacted me to see if she could write an article - she was drawn to my work because of its originality and my sourcing of pure stones, with the very rare exception of stones that I collected very early on. I am proud of the knowledge I have when it comes to the more high end treasures and since working with semi precious stones, I have learned a lot about them too. I use all sorts of incredible stones from my collection but my main goal in the past years is all about purity, anything as untreated as possible.
How to get to the gallery:
When in London
In London, Valery Demure told me that she also wanted to showcase some of my 'Adore' rings at the Chelsea Flower show, a show I love and have visited many times when living in London. 'Adore' is a series of flower inspired rings, rather fitting for the Chelsea Flower show. When I was in London last month I also met up with another great woman, Katie. We met a few years ago at a party and she sells jewels, so obviously we got chatting and she loved my work and even bought a few pieces. Here we are a few years down the road and we are talking about a possible collaboration, which is so exciting! Be sure to stay tuned for more information on that in the near future. 
Sustainable Packaging
From ethically sourced and untreated jewels to clean and pure packaging. The only bit of my packaging that is coloured is the paper, as ink and cotton are not always 100% sustainable. It took me a very long time to find the colours that I wanted, the earthy tones that sustainable materials often come in are too mellow for me, I need the bold colours in my life! I also needed that bit of glamour, because my one-of-a-kind work deserves it! 
The wonderful box it comes in is made in Rome. My first boxes were all black, with a beautiful moiré print on paper. This time I chose midnight blue which ties into my own childhood where my dreams of stars, planets, the cosmos, the Universe and all of the great unknown have never left me. A series of mine was inspired by those dreams of mine, I named it Fascination. Midnight blue is a colour that I will forever treasure, even my engagement ring comes in this colour.
The inside of the midnight blue box is ochre, a mustard yellow, or a faded blue velvet. Inside the box, if you're lucky, you will find a super exclusive Swiss silk scarf or cloth. The silk materials are made by the Swiss factory Weissbrod, an old Swiss silk fabric company that has been making silk fabric for a long time. I've managed to get my hands on some colourful swatches of men's ties and just fell in love with the idea of using their silk for part of my packaging. Keeping it local, a friend who lives in the same Alpine village is a seamstress and created different sizes of the cloths to wrap my jewels in, some are scarfs and some are just a simple cloth. I think it is such a special way to present a jewel and simply loved the thought of being able to repurpose items from a traditional Swiss factory.
Fascination 
This beauty has eleven exquisite raw stones; rubies, brown quartz, aquamarine, mica and chrysocolla, all set in beautiful yellow gold. A stunning necklace made up of a collection of carefully chosen colourful raw stones all individually enveloped in a unique setting which resemble my childlike dreams of the planets. Each 'planet' sits on a stiff collar of a yellow golden choker necklace.
As glamorous as she is edgy, this stunning pearl necklace is set in blackened silver, a gorgeous harmony of colours from the soft blacks and greys of the pearls to the silver setting. The sweet grey water pearls are nested within a web of blackened silver wire which becomes the centre of this glamorous interpretation of a planet. 
A one-of-a-kind piece made to shine. From the beautiful pink of the stone to her beautiful golden setting, a unique Conversation Pieces necklace. The lovely raw rhodonite isn't all pink and sweet, I chose this stone in particular because of the grey and black which peek through the pink base giving Noona a glamorous edge. 
Xx Sheila