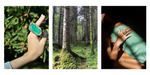 Easter is here and I have happily welcomed the pastels, cute bunnies, the easter decor and all the fun that this holiday brings. I love the colour palette, the gorgeous pastels really make for a fun switch up to your usual look. Clothing style will always flow with the seasons but what I really love about my work is that it really transforms a look. My pieces aren't just an accessory, I see them almost as a representation of your personality, statement jewellery which shapes your style and look. Chauncey is a stunning yellow gold and black stone ring, a piece that can make any outfit into THE outfit. A kind of piece that embodies timeless elegance. I have always liked her for her boldness and she has just the right touch of glamour. I am not alone in my appreciation for her unique edge, as within a period of three weeks I could have sold her three times! How cool is that! Three different clients all wanted the same cocktail ring. 
Versions of Chauncy 
The shared love of this ring inspired me to create a similar vibe of the ring for the other two clients who missed out on her. When trying to recreate any of my pieces, I never use the same stone as in the original - I don't even have the same stone twice in my collection - and I will always want to create a different personality for each new ring. And not long after, two more people asked me about the same ring! @Leoniezantman is a wonderful style blogger and wanted me to create a version of her, and the outcome is a gorgeous bold cocktail ring with a square black agate, which I named 'Chaunc'. You will probably see her wearing it in on her feed! Another client has requested a rose gold and black version, which is the piece I am currently working on. Do check out my spin on Chauncy; Cam, set with a matt black stone, Justa, set with a rectangular black agate, and Calypso, set with a white baroque pearl and an onyx, all created in the embrace technique.
Three times green
Yes! Let's move on to green, because I love green, especially right now. It could be because it's almost Easter, and everything around me is green. I'm finding it so magical right now, after a winter in the alps it is so special when you descend from the mountains down into the valley and find the luscious greens of the grass and the trees and the beautiful flowers blooming all around. A client recently requested I create a ring with a green stone and asked me to play around with some different ideas, giving me the perfect opportunity to create more green stone rings for my collection. I will always have space in my Conversation Pieces collection for lots of gorgeous green rings and having had a small ski accident a few weeks ago, I was able to really focus on creating and not being able to walk much meant I was allowed to spend some extra time in my work studio. Et voila! Three new green stone rings were created. 
Aria 
Stunning green aventurine set within a bicolour web of yellow and rose gold. A unique dance of colours within the setting matched with the gorgeous green of the stone make for a glamorous one-of-a-kind piece. 
Tove
She's a sweet but bold green cocktail ring. The beautiful drop shape of the green agate set in the glamorous rose gold web, a perfect colour pairing, a beautiful unique statement piece. 
Reese 
My third new green stone ring, Reese. The glorious green malachite against the lovely yellow gold of the setting, a match made in heaven. From the striking colours to the unique and edgy shape, this beauty was made to stand out and take your breath away.
Three
Do my rings come in three? Well, another little story that I'd like to share with you all, is of the joy I felt after a couple of my clients bought three of my rings at once! Yes! and I still can't believe it but it actually happened more than once! So, you can imagine that the number three is rather exciting, which now has a very special meaning to me. I like to see it as part of my growing process.
Wishing you all a happy Easter, I'm thinking of all the people of Ukraine and sending love and positivity. 
Xx Sheila