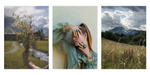 Hi my darling friends, 
As the rays of sunshine begin to peak through the grey of the winter, their light and warmth encourage the first flowers to blossom and the trees start to awaken from their slumber.
I hope you are all doing as well as you can considering the current state of the world. I do want to touch on how tragic the situation in Ukraine is. This is such a difficult time for so many people, it seems so trivial to continue on with day to day life as a war rages in a country so close by. My heart is heavy for all the people in the world who have become refugees. The stress, the heartbreak, the displacement. It seems so silly to write a blog right now, I almost didn't dare to be present in any way these last few weeks, but I think it is important to speak up about current issues and in the same sweep also bring light into the room. To be a space where people can rest their worries for a short moment and engage with something new. That is the beauty of art.  
The beauty of Flora 
The ever-changing natural world is one of my greatest inspirations as an artist. I love to be inspired by the environment around us within my own work. I love the colours within the world of flora and especially the incredible colours of flowers, their vibrant, pure and natural beauty, and it's kind of healing to me. I already started creating flower inspired rings many years ago and always find myself coming back to it. When I'm working on ideas and sometimes, or more often than not, I can't find the right way, I put my projects aside, to revisit them again later. A year or so ago I picked up where I had last left my floral idea and from one flower piece to the next it blossomed into a series within my Conversation Pieces collection and I named it Adore. 
Adore - my flower inspired series
Bellae -  the queen of all imaginary flowers
The sweet array of beautiful natural tourmalines, the moss greens, pinks and grey tones paired with the larger faceted quartz and needle quartz stones, all surrounding a soft beige pearl make for a stunning cocktail ring. 
Beatrice - ultimate pearl elegance with an edge
A bold flower ring with a beautiful white pearl at her centre, embraced warmly by a ring of striking green onyx stones and an outer layer of deep matt black onyx. 
Flora - for a splash of colour!
This gorgeous bold pop of bright energy is bound to steal the show. The gorgeous Rhodochrosite matched with the carnelian makes for a really fun and daring statement piece. 
Bonnie - the sunflower 
The glossy black agate is the star of the show,  surrounded by glistening citrines that are interwoven into a gorgeous rose gold web.
There is something about flowers that brighten your day, especially in the early months of spring where the first sightings of them are a sign of warmth and new beginnings after a long cold winter. I hope this sweet series can coax a smile out of you. 
Stay safe
Xx Sheila