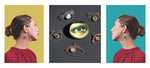 Eye See you
I have created two brand new series for my Conversation Pieces collection! The EYE SEE YOU series, a tale of one of my earliest, almost obsessions.

What makes today's new release super special is that this new series is all about earrings, a brand new jewellery item for my Conversation Pieces collection, in which until today didn't include a single pair of earrings.

The EYE series
What started out as simple as a keen interest when I was a child, drawings and scribbles here and there and everywhere, became a slight obsession of mine. I was entranced by the beauty and uniqueness within an eye, be that of an animal or a human, amazed by all that can be seen within an eye. The depth of emotion that can be read by just looking into one's eyes is an incredible form of communication, so deeply private and personal. I loved all of that and still do, and love the beautiful colours we see in eyes, the greys, greens and blues, the dark and light shades of brown, from the lightest shade of a blue or grey to the darkest shade of brown that almost seems as if it were black.

I had never played with the idea of actually using stones when creating earrings for my Purely Wired collection, a collection where I wanted to embrace being unique and fun but also create incredibly wearable pieces, meaning keeping it light! However, recently I decided that I really do want stone earrings to be a part of my collections - and so do a lot of you, it's a popular request! Not only that though, I also really wanted to see eye earrings come to life and so here they are! 

"The face is the mirror of the mind, and eyes without speaking, confess the secrets of the heart." - St Jerome.
My first ever pair of eye earrings, the pair that brought my vision to life! A beautiful sterling silver frame and within it, a gorgeous raw selenite at the center of the eye.

A stunning blue lapis lazuli captures your gaze and  the combination of the beautiful blue with the gorgeous golden setting make for an unforgettable piece.

Green and gold, a stunning duo. The glorious colour of the green aventurine paired together with her beautiful yellow golden setting, a match made in heaven!

A beautiful yellow gold frames the wonderful tiger eye stone, the lovely shades within the tiger eye give this piece a special edge. 
The piece de resistance - if you fancy shiny things! This piece is made of the shell of a Tahiti pearl, and it's specific dark grey, shimmery and iridescent color gives it oh so many ways to be worn and to catch light. She looks different from any angle in every light!
xx
Sheila