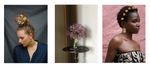 The JOLLY series 
Cute and sweet with an edge! My work isn't actually very sweet, even when I try for it to be! Yet this series was inspired by the very sweetest of things; pink, lace and roses. Within my own style I love to mix things up, probably because I just need that bit of edge or maybe it's just my personality. If I'm wearing a pink blouse I'll be pairing it with black and with a heavy chain bracelet or one of my large blackened silver pieces, just to counter that super sugary pink vibe! When I think about lace, I think about its place in history and of course I'm in awe of how it could take weeks or months for the very finest quality of lace to be made, but when I think about how it is made today with modern materials, I can't embrace it in the same way. I love to have fresh roses in my home and that's where it ends, you won't find rose prints anywhere in my wardrobe, no rose shaped jewellery, nothing like that. So with all that in mind, I still decided to embark on this journey and made this sweet series Jolly, inspired by dealing with the completely over the top vibe's of pink, lace and rose. 
Beautiful earrings with raw blue chalcedony, framed gorgeously by a wonderful yellow golden setting. Her super sweet setting combined with the almost round like shape of the chalcedony gives Shaii a rose-like shape.

Stunning blue kyanite enveloped within a lovely yellow golden setting. The shape of the kyanite gives Claudette that little edge to slightly counter the super sweet vibe of the lovely loops of her setting.

Raw pink tourmaline, the sweetest, most lovely, centrepiece, is embraced by a most gorgeous golden setting. The pink of the tourmaline really allows Katherine to be the sweetest pair of earrings, the framing of the yellow golden loops, the cherry on top!

The black stones used here are partly semi-transparant, when you view them up-close, and from a distance they are delightfully black, and beautifully combined with yellow gold filled. They have a slight eccentric feel about them, with a touch of sweetness and their stand-out vibe, was inspired by doiley's!
This pair of delicious pink earrings, are one-of-a-kind and totally fabulous! Her stone is a polished rhodochrosite with a somewhat rounder form.
Xx Sheila