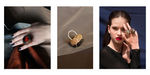 Over the past few months, I have reviewed and reflected on my work and realised that I'm all about black! I adore colour, there's no denying that, but I have a special love for black. It has so many meanings, defined and symbolised differently within each culture today, but black has also had such an interesting journey of varying roles within history. From embodying luxury to a symbol of poverty, it has been both a sign of humbleness and incredible power. I'm always so intrigued when one thing can represent so much!
Where it started to where it is now
Black was one of the first colours ever used in art, charcoal and minerals were used to create the black pigment that the first artists then used when painting and drawing on cave walls. It has been used by the Greeks to create black silhouettes on red vases and vice versa. In mediaeval Japan, a single brushstroke with the colour black was used to accomplish the highest form of Zen. All the way to the present day, where the artistic rights of the darkest man made substance, Vantablack, is owned by artist Anish Kapoor. And now the colour black can also be found within my own creations ;) 
In fashion
Black has been reserved for the wealthy, it has been the colour for servants, it has symbolised power, been assigned to the poor, represented mourning, it has redifined sexual freedom within fashion for women - oh to deep dive into the history of colour, what an incredibly interesting journey. From Victorian widows, to subliminal sexuality. Remember Audrey Hepburn wearing that black Givenchy dress, seen now as a forever elegant style and from the Beatniks to academic subcultures, from punk to goth in the 70s and 80s, to Japanese designers, with an all black fashion approach, or almost anti-fashion approach really, all the way to where we are now - and so much more in between - black really has had a journey within fashion! 
For me black just has that it factor, it truly is sublime! Which is why you will find so much of it within my work and especially in these new pieces of mine! 
A gorgeous cocktail ring, a bold black stone, the showstopper. The glorious golden webbed setting gently opens up on the one side of the piece, making space for the beautiful black obsidian. 
It's not all about black here! However, the raw garnet IS almost black with deep burgundy tones, set within a wonderful yellow gold setting. You will find that there is also a hint of blackened silver at her base, giving her just that little extra edge that you know I adore. 
A stunning ring! The centrepiece, an incredible polished labradorite, the star of the show is not alone though, she is embraced by a bold blackened silver setting which in turn is surrounded by gorgeous moonstones that are a soft orange in colour. The base of this beauty is a lovely yellow golden web. 
She brings a wonderful warmth with her unique marriage of colours and blackened silver and yellow golden setting. Four small ochre coloured mookaites form a square around the lovely larger red mookaite that sits in the centre of this piece. The yellow golden setting wraps around the red mookaite and the blackened silver holds each of the smaller mookaites. 
A fun and daring combination of beautiful soft toned stones set within a wonderful web made up of both yellow gold and blackened silver. Within this beauty you will find two nuances of glorious green jade, two ever so lovely amethysts and two gorgeous charoites. All of these sweet stones are polished, giving Needa that sweet and edgy finish. 
A bold beauty if there ever was one! The incredible coral, dyed a stunning red, sits within a wonderful two tones setting of blackened silver and yellow gold. These 3 colours tie together so beautifully and make for a truly unique piece. 
Xx Sheila