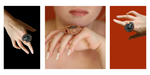 Theatre is one of my favourite forms of art. The feeling of being entranced by an intricate plot, the emotion involved in witnessing great opera, the enchantment that comes with a magical dance performance, I adore it all. The great performance world has inspired much of my jewellery. Made to shine, bring an edginess and steal your breath away. 
Dancing the night away 
A music and dance performance is such an incredible experience, the way they move you and pull out emotions in the most special way. Through music and dance we encounter different cultures and there is something so inspiring about seeing all the different ways there are to express yourself. During my time living in London I saw many great performances. I have witnessed beautiful Persian music, been to a Chinese opera, seen wonderful Japanese Kabuki (dance drama), danced to African beats, listened to the lovely almost meditative sounds of Bedouins and I sat in adoration watching Indian folk singers sing their ancient songs. 
Stories told through plays
I think I have always been in awe of theatre, what a magnificent work of art. There is something so raw and unique about living through a story which has been beautifully strung together and orchestrated so carefully and intentionally to tug at you and your thoughts. One of my favourite plays also happens to be the world's longest one; The Mousetrap, it was incredible. I absolutely love Agatha Christie, what a brilliant writer. In London, one of the morning walks I used to take with my dog passed one of her houses. It's the most wonderful small and romantic cottage in one of the Mews streets. It did trigger some fantasies.
The Opera
I know you all know that I am an opera lover. I especially love classical Opera, and I adore being challenged by the unexpected. In the early nineties when I went and saw a contemporary interpretation of the play Pelléas et Melisande by Peter Sellars, a whole new world opened up for me. Later on I went to see opera everywhere I went, even when travelling around the world, where I sometimes had to drag my husband along, even when there was a risk that he would fall asleep, like that one time in Melbourne. Sleeping husbands aside, it is always always worth the experience. I have seen too many opera performances to mention them all here, one of my most favourite opera singers however is the incredible Cecilia Bartoli. 
A costume dream 
I have a fantasy where my jewels, my most big and glamorous pieces, made to be showstoppers, are a part of an opera performance or a play, where weight is never a problem as most performers are used to wearing heavy robes, wigs, and lots of make-up. I dream of my large stone rings and necklaces to shine brightly on stage. When I create, I do it for when there is an occasion to dress up, so I create my own special moments. I love to enhance the significance of dressing up, for some kind of stage, even though I myself never like to be in the spotlight. I really want to create magical moments, for those of us who dare to really stand out. Which brings me to:  
Last but not Least - Grand new rings
I have some wonderful new rings to show you all and this time I have created some big and bold beauties again! I would say that for regular wear, up to 40 grams for a ring is very doable, however, like always, everything depends on you, your personality and your style!  
Roslyn
35 grams
Pauline
26 grams
Xx
Sheila