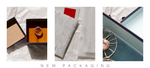 Hello everyone! Here is a new blog post, as I can't wait to tell you about some big  news that has come up! As of July 22nd, part of my work is for sale on the newly launched website of Not Just A Label, the platform that strives for a revolution in the retail industry with a focus on slow fashion, and innovative independent designers. For the launch of this special webshop, they decided to select only 500 designers out of the 40.000 they work with on their platform... and I was selected as one of them! Check out my storefront on NJAL, as well as their other amazing designers.
The other exciting news I have, is that my new packaging has just arrived! I would love to show you the story behind the colours and materials, and why I find it so important...
As you might know, I worked in the fine jewellery industry for many years, surrounded by the most  precious diamonds and stones I could imagine… one job that I was in charge of, was the display of our shop windows. After some time, I was given complete freedom over the them, so I could freely use my imagination and creativity to make them look just as I wanted. I would go to all these different places across town for hours, looking for precisely the right fabrics and display items to fit the theme, vibe, and colour… I found myself in museums' archives, and contacting old friends and family members who I knew had a special item I could borrow. I was full of ideas, and loved adorning the window displays, because I have always believed that the presentation and story of anything is such an important factor to the whole experience.
 So, years later, when I finally decided to present my own jewellery to a wider audience, having started my own online shop, I knew very well that the presentation and 'experience' is so important when buying a jewel. Because my jewellery is unique and basically reflects my own personality, I wanted to have special boxes to match with them: not the standard jewellery boxes, but a box that was completely my own design. I had always dreamt about the whole "unboxing" experience, with different layers and textures, creating a whole surprise effect…
My first batch of black boxes, with a beautiful velvet on the bottom.
While I was living in Rome a few years ago, I found a company that made beautiful boxes by hand. I decided to go for squared boxes, lined with black paper on the outside, and velvet on the inside, with my logo in glossy print on the inside of the lid — it was completely my own idea and design, like I had always dreamed of... What a special feeling it was, to have my very own boxes!
Since a year and a half, I've started to reconsider the black boxes — I still love the idea of the beautiful, luxurious dark boxes, but I realised I'm much more of a colour lover. Myself, I have gone through many different processes and little changes the past few years, and I realised it was time to go for a box with more colours. So this time around, I decided to go for a deep, midnight blue colour on the outside of the box, with two different colours inside: one with a a beautiful mustard yellow, and the other with a faded aqua blue, both lined with a beautiful velvet bottom.
 To add another splash of colour and more of my personal touch, I started searching for a way to find something unique. After searching for something special for so long, I finally found a  traditional Swiss silk factory, making all these different types of amazing quality silk, with which I added another layer of surprise to the box… Just like the jewellery I make, this personalised gift is one-of-a-kind… And will only be available as long as the unique stock lasts!
For my Purely Wired collection, I was finally able to realise another idea that I've had for years, creating a 'pouch to go' for my light-weight earrings. This idea arose some years ago, as I thought it would come in handy when going on a trip. Ease and light-weight have always been on my mind for this specific collection; characterful unique earrings, yet easy enough to take along when traveling. So I wanted a packaging that goes with these values… eventually, I came across a Dutch company that makes high-quality and sustainable wool felt. To close the pouch, we found a solution that goes with the almost-minimal and airy style of the jewels: a thin, semi-transparent band with the logo on it, giving the whole design a simple yet elegant look. 
As a further additions to my packaging, the silk 'surprise' for my boxes and the felt enveloppe are handmade by a professional seamstress in the Alps, so they are not only sustainable but also high-quality and Swiss made. I couldn't be happier to see my ideas become reality!
As of July, the first of my handmade felt pouches have been sent off to AA-COLLECTED in Kreuzberg, Berlin, where part of my Purely Wired collection is currently for sale.
Credits: Vladimir Dziomba. Click here to see the original post!
The process of choosing the colours for the packaging has been a journey in itself, and I'm so happy with how my choices have turned out. And with these colours as a base, I organised a photo shoot the other week... the results will be shared soon, but here is a glimpse!
x Sheila