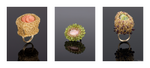 Hello everyone! I hope you are all doing well, and that you entertain yourselves in these strange times. I'm writing this blog from my home in the Swiss Alps, where I stay inside like the rest of the world… it has given me a lot of time to think about the world, and more than ever I realise that making jewellery is truly my passion. I enjoy my work so much, and I really want to show it to the rest of the world. So, I am currently trying out new ways to photograph my jewels to show them in the best way possible: I want everyone to see the same picture that I see when I hold one of my jewels in my hands!
The photos that I took over the past years. Too bright, too dark, blue shadows etc.
Photographing my work has always been a big obstacle to me… Oh, the trial and error!! Over and over again, I tried so many different techniques: different backgrounds, different sceneries, different lights… it's a big hurdle for more jewellery artists, especially those who work with one-of-a-kind pieces like I do. Every piece I make needs new photos, so to me jewellery photography is a constant process that seems to knows no end! 
 How to get the light right for a natural looking photo?
The difficulty has always lain in finding the right conditions to show the true colours of the stones and the material. I quickly learnt that the photos turn out best when they are shot in the sun… the way the gold "sparkles" and the deep colours of the stones are impossible to copy in a studio or using another type of artificial light. But of course, some days are sunnier than others… and the sun can hide behind a cloud for a few seconds… even when the weather is right for a photoshoot, every photo turns out differently. It's a struggle to find a "one-size-fits-all" approach… more like impossible...
The result of a little more consistent outside shooting, but photos like that always come with strong shadows, which you need to edit again to get a perfect white background. And that comes with lots of work, I can tell you.
My husband has been very helpful with the photography, especially now that he is also staying inside more: we are still allowed to go for walks, as long as we keep a safe distance to others. We really take the situation very seriously, and make sure to only go for walks in the woods or along the river in my town, where we don't cross paths with anyone… it is so important to do whatever we can to help, and stay hopeful for a vaccine… staying hopeful is crucial! So, under these new conditions and with his lifelong interest in all sorts of cameras and photography, he has been very busy with new lenses and lights, to help me get the best results. Finally, the photos are getting much better, and I couldn't be happier about it!
Much better now, although, you can see that the individual gold colours that differ a lot from each other... The good thing here is that we have a natural white background with natural shadows. Next: how to get the 'spark' back into the jewels. As I'm writing this, we are still in this stage of the process...
Now this is something!! My jewels are great on black, but it comes with a super glamorous vibe and the black is never consistent... This is nice for individual posts but probably not for the webshop. A great start, and now I would like to 'translate' this feel into a white background..
Other issues: next to these technical difficulties that I encountered along this jewellery photography journey of many years, I was also caught in a dilemma: do I even want to share such up-close photos of my work?! As an artist, I work with my own techniques, and the idea of showing my work in detail actually terrified me for so long! It took me so many years to develop my own technique, so I was always scared that others would simply copy it. With my background in Art History, I know of so many cases of copycats in the art world, that I was terrified this would happen to me as well. It happened with abstract art, for example: the first artist who worked with abstract figures and shapes really crossed a line and showed great originality. This style has been copied so much over the years, as it has become "fashionable" to make with abstract art…
So of course, I have shared my pictures of my jewels before, but I was always a bit careful: showing my rings on a model is a way to share beautiful pictures without getting too up close or "in your face". This stage was a necessary part of my process as an artist, and I realise now that it is important to show my jewels on their own in all their glory! And this has paid off… my "new" photos got lots of attention on my instagram account. 
I would love to know what you think. Please leave a comment below, and stay tuned for more new photos coming soon!
x Sheila