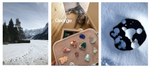 January, truly has been the longest month of the Year, and it felt like it should never end. Today, on Valentines day, this blog is finally launched. The long nights and short days, of this past period, made me shift my perspectives somehow..
I found myself thinking about my pieces and their beginnings as the cold winter months are so cosy to stay inside. Blanketed in ever-white snow -hopefully, surrounded by tall mountain-scapes is where I live. And most of January, I reserved to check the stones that I acquired last year to fantasise about what I would like to create next. The extra reading felt great too, and I loved hanging out on the sofa or to watch some movies. I also took the time to organise the jewellery photos we've created, and to finally organise the many personal memories from the past ten years. Time just flies.
There is a lot going on in this world... which made me want to escape into finishing some Arty Scenes pieces as they are close to my heart, instead, I found myself working on several assignments and new Conversation Pieces. 
It's wonderful to work on this collection. I go through my collection of stones and minerals and select the ones that speak to me, after which I put them on a separate tray, that hangs out in my workshop for days, or even weeks. Only when I seriously examine a stone for its form or in more detail, do I instinctively know which technique and materials to use. This is the moment when a design is taking shape in my head. The design and creation process isn't easy, it can take between one day to many more days, and usually, or mostly actually it's the latter.  I'm never happier with the final step, the finishing process!
This extra thinking time, brought me back to that time when my jewellery-making journey started, after finding things on lake and river shores... which made my appreciation for nature even stronger, and this wondrous relationship became a much bigger part of my life.
I always had a curiosity for the mountains that produce these colourful rock formations and stones. So when I started working with high-end precious beauties, from my days in the fine jewellery field, over time I gradually added more semi-precious beauties, for their shapes and colours. And it is the raw stones that I love working with most these days. 
Sustainable thinking has always played a big part in my life -much to the chagrin of friends and family as it started when I was about seventeen years of age... Luckily the general perception has shifted today, for so many reasons. I'm grateful able to work more with pure untreated or raw stones, which makes me feel closely connected to nature and my values.
This reflection period, made me think about my journey in life and which steps to take next. 
I'm happy that I took my packaging a step further, by not just ordering boxes from faraway countries like most companies seem to be doing these days but sourcing things closer to home or from producers which I know and trust.
When I'm sending out my jewels, they are protected by packaging that is mostly sustainable. For the Conversation Pieces, as some of you know, I up-cycle silk men's ties fabric (swatches, or rest material) woven in Switzerland to cloths or scarves and in this beautiful high-quality material, you can find most of my jewels wrapped. The cloth or scarves are made by a seamstress from my Swiss village, for as long as it lasts.
For the Purely Wired Collection, a 100% sustainable light grey woollen felt, produced by a Dutch company, is made into simple but awesome pouches, by the same seamstress. And for the Arty Scenes Collection, the same woollen felt, only this time in bright orange, is where I wrap my Wearable Art pieces into. And the magical midnight blue paper jewellery box is hand-made in Rome, by an artisan I found during the time I was living there. 
For the shipping, we use recycled brown carton boxes, recycled paper tape, and also recycled packing paper, so the jewellery box or pouch sits safely within the larger carton box. There is actually no more need for any plastic tape, nor plastic bubble wrap either! I just hope that more people will follow this example.. It's really easy. I'm forever researching for anything better because it's all in the details.
I hope that you can understand some of my values, and that sustainability can be beautiful. I'm aware it's only a small step, but it's an important one, and if we could all participate in different ways that would be wonderful. 
You've probably seen or heard about George, my kitten who makes creating not completely ideal, I must admit, as he is in his seventh month and needs constant attention. So, with every chance I get, I sneak into my workshop where I can be on my own without George. With him in my studio, it's a curious heaven for George, playing with shiny gold and silver wire and throwing stones on the floor.
NEW
The jewellery that I would like to introduce this month, are some fab new rings and something that can be worn anywhere and at any moment necklaces, especially the smaller ones, just like 'Mae', who I introduced at the end of last years blog and more smaller pendants are being prepared as we speak to soon be added to the Conversation Pieces Collection.
Let's make a start with Rosalie, set with a lovely baroque pearl. This reversible, beauty, can be worn on two sides. One side appears more Chique, as the pearl is set into 14 kt yellow gold filled, whereas her other side is edgier, due to the blackened silver part. Such a fab and cool jewel! 
Maud, is a shiny and more geometric beauty, with a slight wink to the Bauhaus movement. Created from a high-quality silver wire, a strong design set with a 1930s French ceramic vintage bead, that I found in an antique shop years ago in Nice, the South of France. The colours are great together! Fresh, strong and Unique! 
Barbel, is a one-of-a-kind design, belonging to the pure stone rings of the Conversation Pieces Collection. This wonderful green beauty is set with a natural green, slightly sparkly aventurine. This smooth polished treasure was shared once or twice on my Instagram feed, only today she is properly introduced here.‌
Ring Geraldine, wow! Amber lovers, hold your breath, she is something! This huge natural amber was found by me in the Chiapas region in Mexico, years ago. This type of amber is very clear,  whereas most Baltic ambers are generally more cloudy or opaque looking. 
Ella, is the sweetest beauty, a lustrous grey-ish baroque pearl, set by Sheila in a  possession setting in 14 kt yellow gold filled. She is finer than the reversible necklace Rosalie.
Stay cosy and have a lovely Valentine's! Until next time!  
xx Sheila