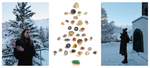 My life is about super charged jewels and George.. 
Christmas time is that special time of the year, when you are just longing for a white winter wonderland, cozy moments, gluh-wein, spending time with friends and family, and have some lovely holiday parties. Only, this year we are having a party at home, because of George, our kitten that we found in Croatia this summer. He loves the fireplace, since living in a much colder climate, and he loves jumping onto and into everything! We can't add more ornaments to the tree; he attacks them right off and I would decorate it better, but it won't last George's curiosity!
Anyone with kittens; how do you protect your tree from these small tigers? After an eventful year, we love staying home with him and are excited to share our first Christmas together.
Even though the days are short, the mountain village is covered in a thick, white, winter-land blanket. It snows for days on end and it just makes the holiday season that much more special. With everything being prepared for Christmas; we would like to wish you Happy Holidays! That you enjoy the time cheerfully with friends & loved ones, stay toasty from the cold, and remain calm when your cat knocks down the tree. 
JEWELLERY BLIZZARD | TREASURE OVERLOAD!
You know by now that I like to introduce my latest Jewellery here, and I can tell you whole heartedly that these latest pieces are extraordinary, super duper, G R E A T ! 
Modern Homage, is one of the most special necklaces that I have ever created, The pod like shapes are set with a variety of pearls in blackened silver, and combined with rose or yellow gold. This modern and truly one-of-a-kind pearl necklace, is an homage to a pearl necklace, only she has a new coat. 
Juoo, is the ring on Tessa's hand, on the left, catching the sunset at Grandma's house last Summer, this crystal clear statement piece, where a faceted pear shape is cut from rock crystal, and I created a world around her. If you like a sparkly and unique statement ring, this is it! 
Cielo, on Paloma's hand, to the right, is something else… I'm sure that you haven't seen anything like this before too. In this statement ring, I've set two extraterrestrial 'stones' that look like they are flowing into a web of intricate woven gold and these metals are meteors, found in a crater in Argentina back in 1572! Well, what to say... everything is special about this ring! 
Thenay,
is the first ring above, black and gold... Set with a pebble that I found high-up on the Swiss Alps, combined with a lighter organic shape, created like an intricate nest of gold.
Deeva, is the pearl beauty in the center of this colourful collage! She is also made in blackened silver, combined with rose gold. This amazing statement piece is for people who love something extra special.. and she could be for your next cocktail night, a fabulous party, or when you have your afternoon tea. She is deep and dark, and beautifully enlightened with pearls!
Mae, is cute… isn't she? Well, in size she is smaller than the usual jewellery that is made for the Conversation Pieces. In this pendant, a beautiful red oval ruby cabochon is set in blackened silver, with two freshwater pearls in rose gold. It's great to be wearing this pendant on a simple black cord, as you see on the middle photo or on the red grapefruit, and you can switch to your own necklace if you wish to do so.
Enjoy your moments. Let's spread more love. Next year will be full of surprises!, I'm sure!
Sheila xx