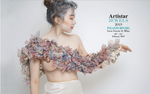 La Dolce Vita
To me, Italy is synonymous with family, food and classic art, architecture, design and cinema.  All of these have influenced my life, so not surprisingly, Italy and I have a long history. 
I first came to know about, and love, Italy through my father's many Italian friends during my childhood in Holland.  It was through them, and delicious Italian meals in their welcoming homes, that I was first introduced to a great style, beautiful food and a lot of charm.  Over the years I gained many more Italian friends and I recently had the joy of living in Rome for almost two years!
Today I'm excitedly packing to head back to my beloved Italy … to Milan… 
Back to

Milan Fashion Week

… Back to the Artistar Jewels Exhibition …
Artistar is the annual Contemporary Jewellery Exhibition, at which I have been invited to exhibit my creations for the second year running.  
Architecture, Design & Fashion 
Before I found jewellery, I studied art history and architecture, both of which have a strong historical link with Italy.   To me, Italy is the undeniable cradle of architecture – from Agrippa in Ancient Rome to Palladio and Bernini in the Renaissance and Baroque periods, and Scarpa and Cucinella in modern times.
I would choose the Italian Modernist and Futurist movements as my biggest design influences, and I definitely would choose a

Baldessari Lamp

of the 1930s as one of my favourite design inspirations – EVER! Don't get me started on Italian lamps!  All I can say is … Wow! I just don't have enough rooms for everything I want to collect!
To me, Italian fashion and style are synonymous with quality, and while classic, there is often a quirkiness and humour in the design – does that sound like anyone we both know?!?  I have always admired the beautiful colours and prints of Italian fabrics and their innovation in weaving, and we all know I am partial to a little weaving in my own designs!  I'm a traditionalist where Italian Fashion is concerned, so my greatest respect goes to a trio of eminent designers of the past – Fortuny, Capucci and Pucci. 
Yes, I know Mariano Fortuny

was really a Spaniard, but his greatest design inspirations were realised in Venice, where you can still visit his stunning home,

Palazzo Pesaro Orfei

– also known as the

Palazzo Fortuny

, now a museum housing the most important pieces of his work.  They include his reinvention of the humble pleat into an unsurpassed art form, and his 'freeing of the female form' with his shift dresses, more than a decade before Chanel started to design.  The Italian fashion designer I most identify with, regarding my own style of design and creativity, is

Roberto Capucci

,

whose unique sculpted designs were lauded by Dior in the 50s.  Capucci was never influenced by his contemporaries,

instead, he drew inspiration from nature, geometry, architecture and art.  Lastly, I will always love

Emilio Pucci

's 1960s free form swirly geometric prints and kaleidoscopic colours, both of which have captured my imagination for years.
Cinema 
I have quite a quirky taste in movies. I like originality, eccentricity and a bit of drama, combined with beautiful imagery. So not surprisingly, I love the emotional rawness of Italian cinema from the 50s and early 60s. The drama and beauty of the classic

La Dolce Vita

is what sparked me to move to Rome in 2016. Then there's Frederico Fellini's 1976 film

Casanova

, which definitely may not be to everybody's taste and was labelled strange by the critics on its released … 'strange' is not a word which I use often. As I am unsure who can decide what is normal and what is strange anymore? It's definitely worth a watch if you want to see something different.  Lastly, I would recommend the 2013 film

La Grande Bellezza

or

The Great Beauty

.  It is one of those cinematic beautiful, eccentric and sumptuous films which most would enjoy. I personally have watched it many times for its spectacular cinematography.
So now that we have meandered through a veritable antipasto of my favoured Italian picks, I would like to invite you to visit me at Artistar Jewels 2019 if you too are in Milan this week.  It's only an exhibition, you can't buy anything, but it has me, and 140 of my contemporaries in jewellery design, exhibiting works from our latest collections. I spent much of the past autumn designing and creating the beautiful ring and collier which I am exhibiting, and fingers crossed for me, that I win a prize in the annual awards! Both pieces are created around Raw Labradorite stones, with my signature free flow 14 karat Gold Wire weaving.  I have named the bold Cocktail Ring 'Private Conversations' and the

Collier

, which features two iridescent Labradorite gems is named 'Milestone' 

Artistar Jewels 2019 

takes place at the gorgeous P

alazzo Bovara

, in Milan

.  It is open to the public from February 19th to the 24th, 10 am to 6 pm daily.  If you'd like to discuss any of my pieces at the exhibition or on my website, please contact me through:
Phone: +44 (0) 2070 961 326
You can also Direct Message me through Instagram and I'll get in touch with you straight away
Do let me know if you try any of my Italian recommendations, or if you have any you can think of for me to try, in the comments below
Ciao and abbracci e baci

 
Sheila XoX