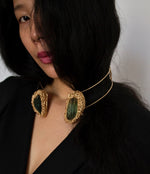 news— February 6, 2019 at 4:05 am
In Milan he shows a colossal of 500 bijoux and jewels with Artistar Jewels ♦ ︎
Back Artistar Jewels, Milanese event that includes an exhibition and a competition dedicated to jewelry and bijoux or, better, how they define the organizers, sculptural ornaments. For 2019 those on show in Milan during the fashion week (February 9-24) will be even 500, all exhibited at Palazzo Bovara (Corso di Porta Venezia 51), over 700 square meters. The exhibition is open with free admission.
For the first time, agreements have been reached with realities outside Europe: Bini Gallery in Australia, Ame Gallery in Hong Kong and Alice Floriano in Brazil.
Anello di Inna Vlasikhina. Courtesy: Artistar
All the 14 galleries involved in the project represent a point of reference in the contemporary jewelery sector. On show there are also the creations of three protagonists of the world of art and jewelry: Turi Simeti, known for its extroflessioni of the Sixties; the German Ute Decker, sculpture jewelry author (among her clients there was also Zaha Hadid); geometric jewels from the impressive structures of the French artist and designer Christophe Burger.
Among the over 400 applications received from all over the world, the scientific committee of Artistar Jewels has selected 140 artists: gold, silver, titanium, leather, fabric, polymers, diamonds, quartz, even meteorite, lichen and nanosital are among the materials chosen for make the jewels in the competition.
Nina Oikawa, Two seconds of spring wind ring
Participants 2019
Adha Zelma Jewelry, Agostina Laurenzano, Agustina Ros, Aileen Gray Jewelery, Alessandro Orlandi Goldsmith, Alva Chen, Ana Margarida Carvalho, Anastasia Dubrova, Anastasia Kucherenko, Anca Ioana Croitoru, Andreia Gabriela Popescu, Anna Maccieri Rossi, Anna Maria Pitt, Anna Nava- Liess / Anna Nava Handcrafted, Anna Zeibig, Artifact Jewelery, Aseem Grover – Aseem Jewels, Asimi, Aurum By Guðbjörg, Bárbara Laso Fernández, Bia Tambelli / Bia Tambelli Creations, Carlo Lucidi, Christine Rio – Slate Jewelry, Cristiana Perali, Daniela Schwarz, Denis Music Jewelery, Denis Sozin, Diana Alexandra Vasile / Temper Design, Dominika Durtan, Doris Gabrielli, Elena Franceschetti For Ice Cream Jewels, Elizabeth Jane Campbell, Ellence, Fiorella Pattoni, Fqd – Flaminia Quattrocchi Design, Francesca Di Virgilio / Fragiliadesign, Francesca Paolin / Paolin, Francesco Barbato Jewels & Sculptures, Gabriela Mariscal, Fabian Pelayo Of Maria Mariscal, Gena Tudor, Gina Melosi Jewelery, Glauco Cambi, Hanna K owalska, Hawraa Almaqseed / Indsoph – Aich Jewelery, Hofmann-Schüll Ulrike Tiger-Gold, Hrk – Helga Ritsch & Regula Kilchsperger, Immago Jewels, Inna Vlasikhina – Statements, Jessica Pass London, Ji Young Kim, John Farris Visionary Arts, Kate Lozynina / My Air, Katharina Kraus, Katherine Hubble, Lara Mader, Laura Forte, Letizia May, Lindsey Fontijn, Lokta Art Vasiliki Merianou, Luana Loureiro Coelho, Lucia Petracca-Alessandra Mazzeo / Pin-Device, Theijn-De Jongh Mappie / Mappie Edelsmid, Marcomormilejewellery , Maria Elisabetta Donadio, Maria Giovanna Pavanetto Jo., Maria Kerrn-Jespersen, Maria Louise High, Marianna Marolla – Peseli, Marion Colasse, Max Sytnikov, May Gañán, Michelle Lowe-Holder, Michelle Lung, Midzo, Mikky Eger, Milla Castro, Mina Contemporary Jewelery By Mina Farrokhi, Miruna Belicovici, Misato Takahashi, Miss Kay Guo, Mona Tabbicca, Morena Fregonese Maitai Jewels, Natalia Lubieniecka / Mysouldesign, Natalia Vorokhina, Nayibe Warchausky, Nina Lima, Nina Oi kawa, Nita Angeletti, Officinacentouno, Orsa Maggiore Jewels, Panayiotis Panayi, Paula Guzmán, Paulina Knapik, Petra Mohylova, Priyanka Baburaj – Adithyan James / Michelia, Rachel Reilly, Raquel Bessudo, Rebekah Wilson, Reem Jano Jewelery, Rho Tang, Roberta Mattos Jewelry , Roberta Pederzoli / Fifth Essence, Rohit Jain, Ronel (Jp) Bauermeister / Topiary & Ashe, Sara Leme, Sara Zaghetto, Sarah Christian, Sheila Cunha Ornaments, Sheila Westera London, Silvia Cruceru / Contemplativ, Silvia Occasi, Spoleto Jewels Snc, Sophie Martin-Glinel T / A Essemgé, Sowon Joo, Spinelli Jewels – Marco And Paolo Spinelli, Stefanie Verhoef, Sui Ling Wang, Sunset Yogurt, Superlora Studio By Ariadne Kapelioti, Susan Crow For East Fourth Street Jewelry, Susan Lenart Kazmer, Swain Mccaughrin – Misassembled, Taibe Palacios, Tax Theocharis Ganidou, Tatyana Kholodnova, Teresa Lee, Tessa Reijmers, Tings Jewelery, Toni · Gie – Designer: Antonella Scavone, Valerie Cheung, Veronika Kuryanova, Viktoria Strizhak / Vertigo Jewelery Lab, Vladimir Markin, Yasamin Zadmehr, Yichen Dong, Yu Wei Yu, Yuri Gogol